World-class tower cranes for sale
Ready to ship to your site
As Australia's crane sales experts, we've partnered with JASO to bring you the world's most popular tower cranes. We're JASO's exclusive Australian and New Zealand crane sales and service agent, stocking the latest range of reliable new tower cranes – and used cranes – for sale at competitive prices.
Our clients cite the unrivalled quality of our JASO electric tower cranes – together with our fast service and hands-on after-sales support – as key to their project success. And because JASO listens to its dealers, it crafts cranes specifically suited to each country's building sector and systems.
Plus, all our new tower cranes meet Australian Standards and are design-registered in Australia. They also come fitted with the most modern and precise technical equipment. That's why when the country's largest corporations seek crane sales and services, they turn to Titan.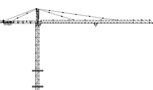 Need a custom tower crane? We can work with you to determine the best crane for your project – or manufacture cranes to suit a particular project.
And if you need single or twin mast climbers, we can come up with a solution to suit your budget.
New tower cranes for sale in Australia
Our cranes can be shipped to any site around Australia. We'll take care of the logistics, delivery, installation and even training. It's the complete crane sales solution, so you can get on with the job.
Our extensive range of new and used cranes for sale includes: 
City cranes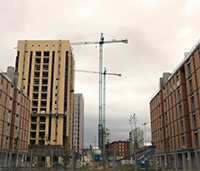 ideal for lighter loads, these cranes are suited to sites with half a cubic metre and one cubic metre concrete kibbles
easy to set up
feature a special design with square tower parts, light jibs and easy to divide components
Hammerhead cranes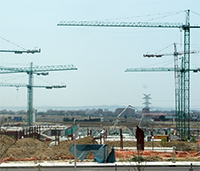 larger cranes with a heavy load capacity
easy to assemble, maintain and handle
equipped with high power and speed mechanisms and advanced electrical and safety systems
ideal for construction with prefabricated blocks and metallic structures, as well as for warehouse constructions, maintenance of heavy equipment, dam and bridge constructions and similar applications.
excellent freestanding heights and wind speed operation.
Luffing cranes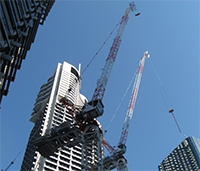 designed for confined spaces, due to site space limitations or avoiding crossing to neighbouring land
all tower parts of these cranes are identical to those of the horizontal jib tower cranes, so a single tower can be used for both
Derrick cranes
New to the range, these cranes are proving popular in all projects.
Specialist cranes used for roof top operations
Alternative to large mobile cranes or other expensive engineering solutions
Purchase Now >
Have a question?
Contact us to discuss our tower cranes for sale in Australia. We can provide an obligation-free quote.
Purchase Now >