Hoist hire to get the job done
Transporting men or materials? Then you need proven, cutting-edge hoists that combine supreme safety and performance. We provide professional hoist hire to some of Australia's largest commercial, government, mining and infrastructure projects. So when you hire from Titan, you're in good company.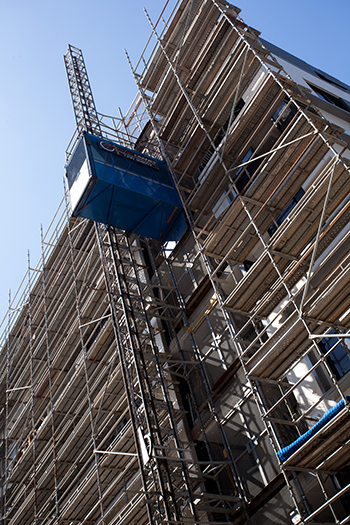 Our fleet of over 100 world-class pinion-driven construction hoists includes:
Man hoists
Material hoists
Personnel hoists
Industrial hoists
Core hoists
Free Standing hoists
Jump Form hoists
Alimak hoists
All our hoisting equipment is backed by the manufacturer's 50 years of engineering experience. Well-built and globally renowned, the range meets stringent safety requirements and Australian Standards. This provides peace of mind that your team and tools will be kept safe on site, from start to finish.
Plus, all our hoists for sale (new or used) and hire are ideal for any type of low, medium or high rise construction – from new builds to refurbishment, chimney/slip form, offshore and bridge constructions.
We can arrange customer fleet servicing and after sales servicing.
1200 to 3200 kilogram capacity
2000 to 5000 millimetre internal car dimensions
Standard 40m/minute to 100 m/minute speed units
Custom hoists upon request
Our current hoist fleet includes the latest units from Alimak, Stros, Pega. Plus, we can provide after sales service, customer fleet servicing, specialist hoist fitters, electrician, dedicated field service staff, engineering and riggers in Sydney, Brisbane, Canberra, Adelaide and Perth – ready to work with you.
We can also produce units of any size up to a 30,000 kilogram capacity. We also have hoists ideal for semi-permanent and permanent applications such as factories, bridges, silos, ports, mines and chimneys. These range from 200 to 3,700 kilograms and speeds of 18 to 96 m/minute.
We can also supply hoists on off-set angles or to suit curved structures. Special-sized hoist cages for one-off projects are also available.
Need single or twin mast climbers?
We can do that too. Just let us know what you need and we'll devise an affordable solution to suit.