Flexible heavy haulage hire
Send it safely and swiftly
We've expanded our fleet of trucks and trailers to provide fast, flexible and secure heavy haulage. When you need it to arrive safely and on time, our team of professional drivers and support staff make it happen. We'll ensure your oversize freight and heavy transport projects reach their final destination without a hitch.
Wherever you need to send it – South Australia, the ACT, Queensland or New South Wales – we've got the country covered, with affordable heavy haulage Australia-wide.
24/7 national heavy haulage services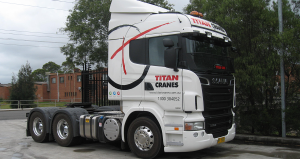 Titan takes the headache out of heavy haulage. Our suite of transport services include:
Fast local or interstate road transport

Container movement

Vehicle tracking

A transport supervisor and expert team

Fleet of 4 Prime Movers, 8 Rigid Trucks, 30 x 45ft Trailers and 3 Forklifts
All of our heavy haulage services are available around the clock. So you can safely and swiftly relocate heavy machinery or transport an oversized load when it suits you.
And because we're an environmentally accredited company, all our heavy transport jobs are done with minimal impact on the environment.
Heavy haulage, tailored to you
With 50 years' combined experience, we understand your unique logistical needs. That's why we have a vast and diverse prime mover fleet of Scania heavy haulers. Our trucks can transport loads up to 4.3 metres high and up to 3.5 metres wide.
Choose a trailer combination:
25m BW combination: 40t weight capacity
13.8m step deck trailer: Second level – 10.9m flat deck section at 1m high, top deck 3.9m deck at 1.5m high
Single trailers: 13.7m long and 1.5m high
Three-way container pin trailers
Need heavy haulage in Perth, Sydney, Brisbane or Melbourne? Our national team is on-hand to answer all your questions. It's all part of our commitment to be a convenient and flexible one-stop-shop for all of your equipment and heavy haulage projects.