Expert labour hire
Professional personnel, here to help
Need a hand on your next tower crane project? Whether it's assembling, dismantling or operating your cranes, our hardworking, highly skilled operators and crane crew will take care of it for you.
Trust the Titan team to take your site to new heights. Our extensive, experienced base of skilled labour is covered under the relevant insurances and adheres to every safety requirement.  So whether you require labour hire in Melbourne, Sydney, Perth or elsewhere, our crew are covered and compliant.
 Affordable labour hire for any height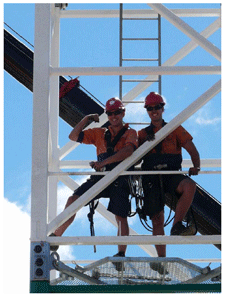 Our team are also certified, ticketed and trained. So we guarantee they can perform their duties on your site safely and effectively. Plus, most of our crew have working-at-height tickets to support your development as it progresses.
And with a proven track record of reliability and superior service, our labour hire is the first choice for any tower crane project. They're also backed by our in-house customer service team, who can help you plan and secure the personnel you need to get the job done.
Of course, we're not only one of Australia's leading labour hire providers for crane projects. We also provide specialist services spanning:
So when it comes to your next project, turn to the Titan team. We have the equipment, labour and accessories to keep your job on schedule and on budget. Whether you're overseeing a mining, government, residential, commercial or infrastructure project, the Titan team can seamlessly slot into your schedule.
It's all part of our promise to always exceed expectations, operate with integrity and surpass safety standards. All while providing fast, flexible and superior service.