The following article was published in The CEO Magazine on 16 July 2015.
In only 14 years, Titan Cranes has established itself as one of the market leaders in the supply of cranes, hoists, and rigging services in Australia, working on some of the country's largest construction projects within the mining industry and major residential, commercial, and government infrastructure projects.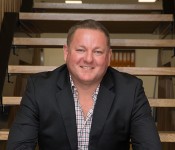 With exclusive suppliers, highly trained staff, and an enviable list of past projects, Titan Cranes is truly a titan in the crane, hoist, and rigging industry in Australia.
Managing Director Damon Hanlin believes Titan's success is due the development of both a strong business plan and the formation of a capable and resilient team with the determination to follow the plan. Titan has stuck to the plan and is now enjoying the rewards of the hard work.
"We have a fleet of JASO cranes," Damon says, "and have recently established one of the best yard facilities in the industry. The JASO high-tech and environmentally friendly electric cranes are manufactured by a world-class European company that services more than 60 countries across the globe. The key to our on-the-ground success has been our level of high-quality service that we provide to our reliable hi-tech assets in the marketplace."
Damon, who has been leading the company since its inception, has certainly contributed to this growth. He is straightforward and honest with his staff, suppliers, and clients. This has established the company with a reputation for high integrity. "I lead by example," Damon says. "I do as I say, and I am always the first one to accept when I am wrong; I lead from the front." Damon is undoubtedly an entrepreneurial soul who demonstrates both courage and high energy in tackling the breadth of projects that Titan has undertaken. "You need to have a lot of energy to keep up with what goes on in a business of this size. You have to take the highs and lows that come with it. Energy is a big one. I would think that my leadership style comes from a vast array of life experiences." Damon has natural leadership ability, and he attributes his involvement in sport to that. "Having played competitive sport and learning how to lose as well as win is a big part of leadership. You learn from your wins and losses; that is what the 'school of hard knocks' is teaching you every day."
His learning experiences are perhaps what make integrity so important to him, Damon reveals. It is one of his core values, alongside ensuring equal respect for all staff, a core part of the company culture. Ensuring staff members are respected and responsible means, in Damon's opinion, that you get a more productive and innovative workforce. "Integrity is important in all day-to-day transactions, and you must have respect for the people that you work with. I also expect people to take responsibility for their actions and be proud of their accomplishments. There is nothing wrong with being accountable for your actions, even when the outcome is not what you wanted. You can learn a lot from your mistakes! I encourage people within the business to constantly improve and have the courage to be innovative, even if that means making mistakes along the way."
– See more at: http://www.theceomagazine.com.au/profile/damon-hanlin